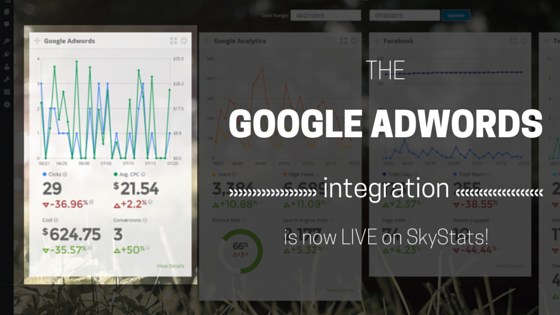 You may want to be sitting down for this…the Google Adwords integration for SkyStats is now live!
You can now monitor your Google Adwords performance right from your SkyStats business dashboard! Please try to refrain from scaring those around you during your wild celebrations as we head into all the sweet, sweet perks that come with the SkyStats Adwords integration.

What's in the Google Adwords integration package?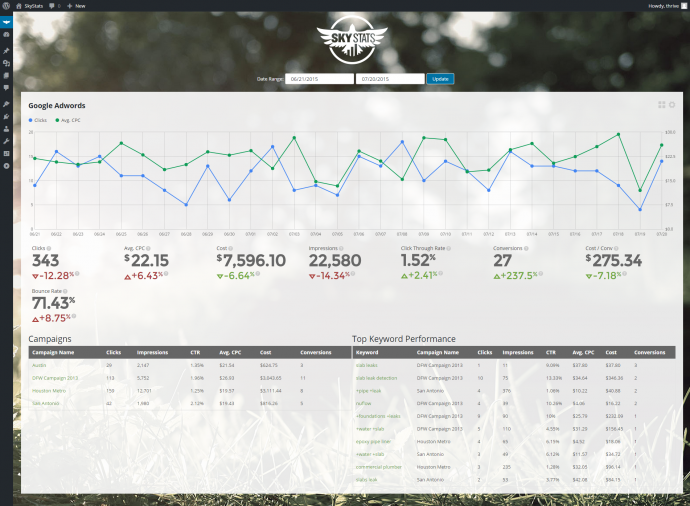 Within the ease and familiarity of your website you can now monitor all the essentials of your Adwords campaign, as the integration includes features like:
SkyStats' Google Adwords tile with overview of campaign stats.
General overview of your Google Adwords account data.
Detail Page for an in-depth look at Adwords performance.
Key PPC statistics, including Total Clicks, Average Cost Per Click, Total Campaign Spend, Total Impressions, Click Through Rate, Total Conversions, Average Cost Per Conversion
SkyStats' premium users also get to view data for individual campaigns. If you're a free user but want to be able to check out your individual campaigns, just upgrade your account. It's only $25 annually, and you not only get the extra Adwords features, you also get white labeling and the maximum amount of marketing data stored.
There's a lot more to the Google Adwords integration on SkyStats, but of course you'll have to start using it to find out about all of its benefits to your online marketing campaigns.
So what's next for SkyStats?
Well, first of all, we want to make sure you guys are pleased, so head to our
feedback page
if you've got any suggestions or questions about the Adwords integration.
Give Feedback
Wondering what the next integration will be? Check out our
voting page
where you'll see some of the options (and some strong hints) and vote for your preferences.
Vote Here
We're excited to hear from you! And as always, thanks for using the SkyStats WordPress plugin!