Twitter Dashboard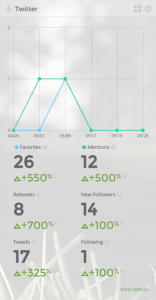 Creating and maintaining a social media account is only valuable for marketing purposes if you are tracking and observing the results of your efforts. SkyStats makes this easy with our Twitter integration, providing your Twitter analytics data from within your WordPress Dashboard, right alongside your other important marketing data. With our awesome Twitter dashboard you'll be able to track:
Total Number of Tweets
Total Number of Favorites
Total Number of Mentions
Total Number of Retweets
Number of New Followers / Following
Top 5 Tweets For Specific Date Range
Top 5 Retweets For Specific Date Range
Top 5 Mentions For Specific Date Range
Top 5 Favorited Tweets For A Specific Date Range
Twitter Analytics From Within WordPress
Track which Tweets are successful, which cause a stir, and how many times your company or brand is mentioned by others on Twitter, without ever leaving your WordPress Dashboard. Our attractive plugin displays data in a stunning, easy-to-use layout that makes it simple to monitor your social media and marketing activities. Our new Twitter analytics dashboard also allows:
Easy syncing in one click
Adjustable date range showing your data over a period you specify
Quick data comparison with a previous date range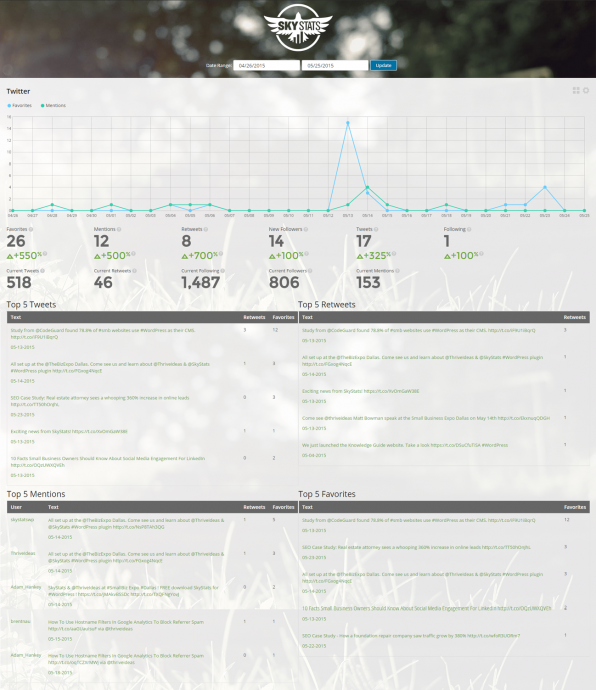 Data Usage Policy:
Authenticating the SkyStats WordPress Dashboard Plugin grants the widget access to your Twitter Username and ID, and also the Twitter analytics and data that we display on our Mashboard and Details page. SkyStats doesn't share any of this with any 3rd Parties in any way or collect any private information or location data.
Want a birds eye view of your marketing data?