Google Adwords Dashboard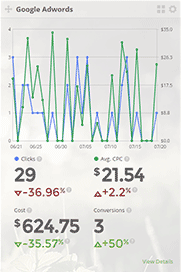 In order to ensure that your Google Adwords campaign is working effectively, you need to check it frequently and get a solid idea of the performance so that you can make adjustments as needed.  With SkyStats' Google Adwords dashboard, you can check up on your Adwords PPC campaigns and get a detailed review as often as you choose, without wasting time right inside your WordPress dashboard.
We're super proud of the SkyStats Google Adwords dashboard integration, and as popular as Adwords is, it was an obvious choice. Our new integration offers plenty of cool features.
Get In Depth With Google Adwords
Google Adwords tile on the SkyStats dashboard.
Convenience at its best! All of your Google Adwords campaign data will be prominently displayed on your SkyStats dashboard, giving you an overview of your ads and helping you stay on top.
Detail Page for an in-depth look at Adwords performance.
We didn't want the Google Adwords dashboard tile to get too cluttered, so we've included only the most important data on the tile. SkyStats premium users will have access to an Adwords' Detail Page that will provide the rest of the details for their campaigns.
Valuable data points including Clicks, Average Cost Per Click, Cost, Conversions and more.
All the data points you could possibly want for monitoring your Google Adwords campaigns can be found in the dashboard integration. We take all the data points that matter most and display them in an organized, easy-to-read arrangement on the Adwords tile. This integration lets you know exactly what is going on with your PPC ads and their keywords, right from the convenience of your WordPress site.
General overview of Adwords account and data for individual campaigns as well.
If you're a free user of SkyStats, you get a comprehensive overview of your Google Adwords account on the integration's dashboard tile. Premium users get the overview as well as being able to check on each of their individual PPC campaigns.
Data Usage Policy: Authenticating the SkyStats WordPress Dashboard Plugin grants the widget access to your individual and/or MCC account Google Awords data. Once installed, your SkyStats' Google Adwords data will never be shared with any third party unless you grant access from the in-page widget. Also, SkyStats authenticates using Auth 2.0 method and saves the Access Token in the database to fetch the user's Statistics. The file system that runs on your WordPress installation may cache some data locally. You may disable or purge all authentication and cache data from the plugin using the "Deauthorize" button at any time.
Want access to the premium Adwords integration features?