Facebook Dashboard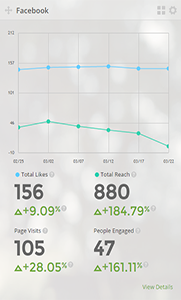 Social media presence goes hand in hand with marketing a website. Which is why the WordPress plugin SkyStats gives you Facebook Insights integration right inside the WordPress dashboard! This industry changing plugin turns your dashboard into a mashboard of visual Facebook analytics like:
Total Likes
Total Reach
Page Visits
People Engaged
Get In Depth With Facebook Insights
Curious about which content is working on your Facebook page? Click "view details" to go to SkyStats' Facebook Detail Page that pulls in your most engaging Facebook posts right inside WordPress! SkyStats eye-friendly, interactive design makes it easy for web designers, marketers, or even non-tech-savvy business owners to have a pulse on their social presence with features like:
Facebook data syncing with one click
Easy Total Likes and Total Reach plotting for a specific date range
Quick data comparisons on key Facebook statistics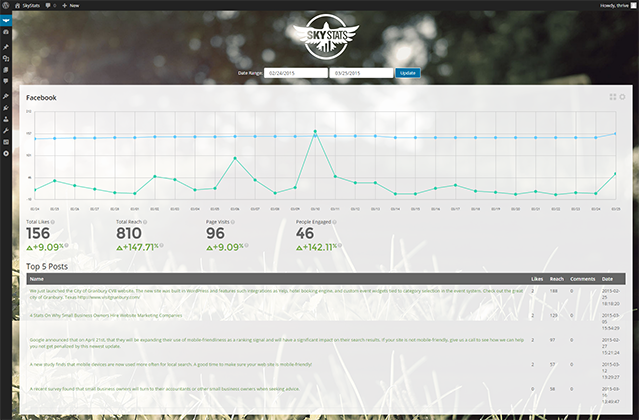 Turn your WordPress dashboard and Facebook data into stunning visuals with SkyStats!
Data Usage Policy: Authenticating the SkyStats WordPress Dashboard Plugin grants the widget access to your individual Facebook Insights data. Once installed, your SkyStats' Facebook Insights data will never be shared with any third party unless you grant access from the in-page widget. Also, SkyStats authenticates using Auth 2.0 method and saves the Access Token in the database to fetch the user's Statistics. The file system that runs on your WordPress installation may cache some data locally. You may disable or purge all authentication and cache data from the plugin using the "Deauthorize" button at any time.
Want to see your stats take flight?